Erika Wanenmacher

The Science Club: The Boy's Room
and Now, Forever, Then

Boulder Museum of Contemporary Art
2008
The Science Club: The Boy's Room is an installation that investigates the Human Radiation Experiments that the U.S. government performed from the 1940's into the 1970's. These experiments were conducted without informed consent on society's most vulnerable- the poor, the sick, the disenfranchised, and children. My involvement with these experiments started when I found a box of old glass negatives of highly magnified tissue samples at a Los Alamos surplus store. Those negatives gradually led me to this larger story.
The overall title of "The Science Club" refers to an experiment that was conducted at a Massachusetts home for retarded children. Boys were fed oatmeal and milk that contained radioactive particles in order to track added vitamins. To encourage the boys to participate, they called the experiment "The Science Club". "The Boy's Room" refers to an experiment at Los Alamos National Laboratory in which scientists used their own children and children in the community in radioactive tracer experiments. To get the children to sit still in the radiation counter mechanism, they rigged up a television showing cartoons. These experiments were conducted into the 1970's. My installation depicts a fictional Los Alamos boy's bedroom, circa 1965, replete with atomic toys and hobbies, and devoid of color.
The installation includes audio and video. The audio element comes from of a vintage ham radio on the desk. It's an atmospheric mixed of a boy's ham radio conversation about living in Los Alamos, intercut with dialogue taken from the transcripts from the Commission Hearings on the Human Radiation Experiments, and vintage radio sounds, including static and spy numbers sequences.
The bed has an appliqued and embroidered atomic quilt, flannel skeleton and atomic printed pajamas, and customized comic books.
Paint-by-number atomic bomb cloud paintings.
Work table with erector set, model kits, paint-by-number kit, radiation zone map.
Desk with Halliburton ham radio that has audio element of the boy's story, and Radiation Commission transcripts.
Enola Gay balsa wood model and record player with Black Raven zoetrope record.
​
This image shows the stenciled wall paper with bucking broncos and bomb clouds.
The video element is housed in an aluminium air monitor station. The video is solarized Coyote cartoon explosion sequences with audio of geiger counter ticking. The tv tray holds a gray peanut butter sandwich. The only color in the room is the glow-in-the-dark green juice in the glass.
The cast-bronze eyeball contains the video projector.
The video is color images of things I love intercut with an eclipse of the the moon, and sequences of the unpacking and set-up of the installation.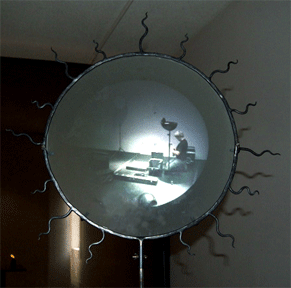 These are images from the video
The audio is a spell of Protection.
Now, Forever, Then packed up.